Overview
MAKING WORKPLACE SAFETY SIMPLE AND RELIABLE BY CONNECTING PEOPLE, SITES AND EQUIPMENT WITH EASY TO USE TECHNOLOGY.
Last year 162 Australians were fatally injured while at work, over a third due to vehicle collisions and many of them machine operators and drivers, over 100,000 workers were injured with a median lost time of 5.8 weeks each. Work-related injuries, illnesses and deaths impose costs on employers, an enormous strain on workers and their families and on the community of approximately $61.8 billion per year.
Certain types of work can be hazardous and require specific skills, capabilities and licenses, every company needs to be sure employees undertaking this kind of work have current licenses linked to the right equipment, are inducted onto sites, have up to date training and qualifications, and have undertaken the required vehicle and equipment safety checks.
SAFETY CONNECT IT SOLUTIONS
With Safety Connect IT, you can manage, record and report on your company's safety measures. Ensure your employees are receiving up to date safety policies and procedures, pre-use safety reminders or training and have the right qualifications and licences to ensure only the right people are using your equipment safely. If there's an equipment or training issue, Supervisors and Manager can be notified so that you can respond quickly, or the equipment can be locked down immediately until its fixed. Safety Connect IT makes it easy for you to maintain your required safety compliance.
• Company safety checks and compliance met seamlessly and efficiently.
• Operators can be stepped through safety checks at any location, and video used to assist in safety modelling.
• Supervisors can ensure compliance takes place by immobilization or geo-fencing.
• Safety delivered simply and efficiently to mobile devices and recorded, no more paperwork.
• Management and Board can have verification on safety compliance and reporting, with reports on licensing, training and equipment safety at the touch of a button.
• Worksafe can find date stamped and version-controlled policy and procedure sign off.
• Insurance could be reduced through better compliance and safety.
• Workplace related injuries could be reduced if users were better informed and safety issues relating to equipment or licensing were reported on.
Find out more & request a demo:
https://safetyconnectit.com.au/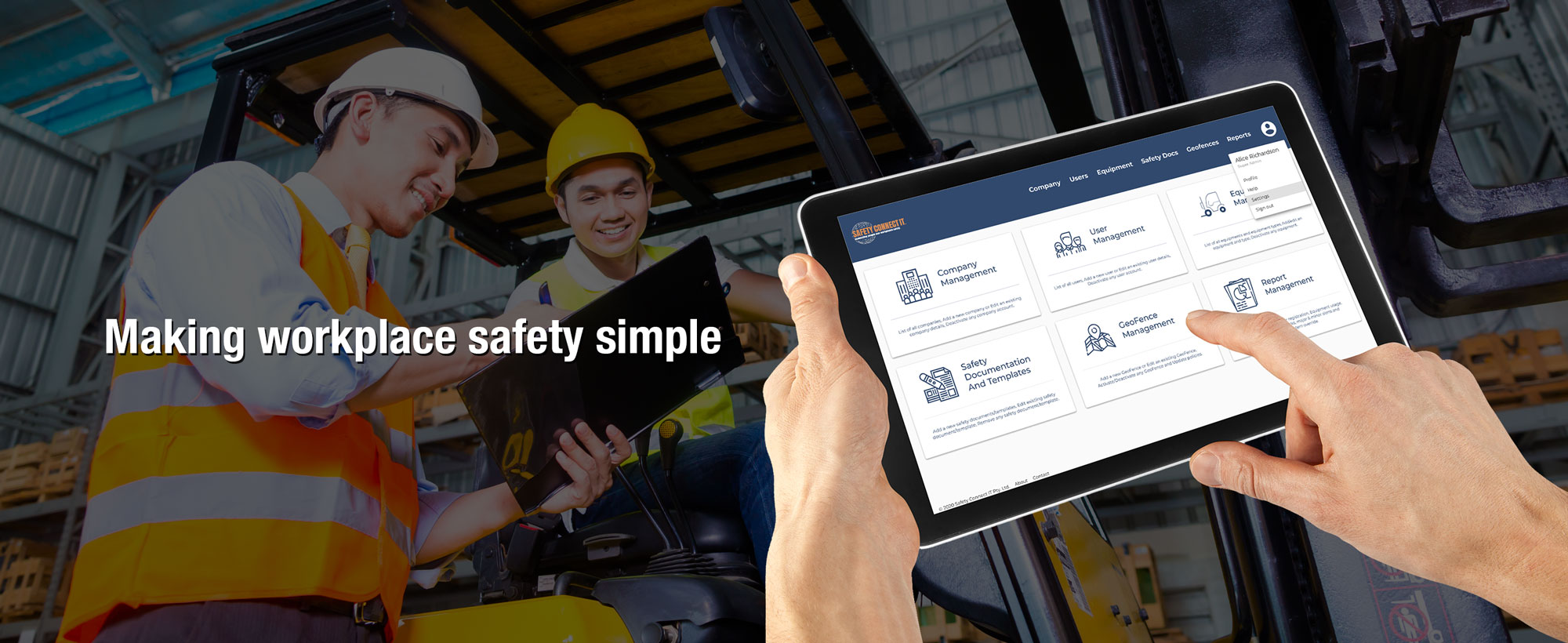 Visited 827 times, 1 Visit today