Overview
Fishing Charters, Trips and Cruises on Port Phillip Bay
The Plover departing Mornington Pier daily.
More than just a fishing charter…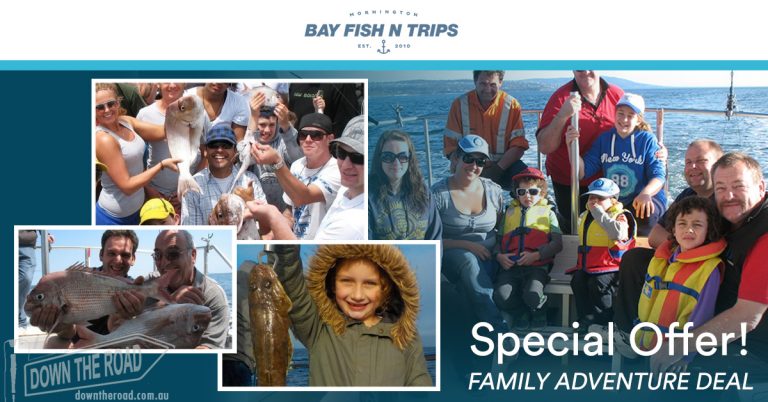 SPECIAL DOWN THE ROAD OFFER!!!

Family Adventure Deal – A Great Christmas Present For Dad & The Kids!

A Four Hour Trip For Only $260 

(Price is for 2 Adults & 2 Children)
Plover is the best vessel in the Mornington harbour for any celebration with family or friends, corporate function, staff social gathering, hens party or sunset cruise.
We also recommend you hire us for a fishing trip if you wish to do team building exercises
The Plover is a classic vessel with an unrivalled level of shelter, comfort and versatility. She is the biggest, cleanest charter boat in the Mornington harbour — the perfect platform for your day trip on Port Phillip.
Bay Fish N Trips' skipper and crew have many years of experience with charter work either fishing or cruising from the Mornington Peninsula and they would love to take you out for that perfect day on the bay.
Bay Fish N Trips' owners, Stuart and Sandra love to be on the water, their knowledge of Port Phillip's history and marine flora & fauna is second to none and they run a friendly, vibrant ship with a casual, relaxed atmosphere.
Plover's crew have been chosen for their genuine people skills, affability and unique fishing knowledge of the hotspots on Port Phillip Bay. The crew will help you to have a great day as well as teach you how to become a competent angler from start to finish (if you have chosen to fish). 
A classic boat combined with modern day comforts, great crew, versatility, adaptation and up to date technology. A new concept on Port Phillip for fishing or cruising at an affordable price.
Plover will change your expectations of charter boats. We are more than just a fishing charter … we are a marine experience. 
TRIPS & TOURS
Fishing Trips – Casual Charters
Available seven days per week (weather permitting and minimum numbers reached). 
Every person (man, woman & child) will receive a Repeat Offenders Card on their first trip which will entitle them to future discounts.
Mornings 7:00 am to 12 noon (5 hours)
Adult $85 
Senior/Student $80 
Child $75 (14 years & under)
Afternoon 1:00 pm to 5:00 pm (4 hours)
Adult $75 
Senior/Student $70 
Child $65 (14 years & under)
Private Charters
Great for groups that want the boat to themselves, whether it be a large family, friends or work colleagues who wish to spend quality time fishing on Port Phillip Bay. Minimum 4 hours for fishing charters.
Private Charters are available morning, afternoon or middle of the day. (Great for groups wishing to spend the day as a celebration, team building or bonding, but no longer available for Bucks parties).
Booking times are flexible for private charters. Let us know what suits you and we will do our best to accommodate.
4 hour trip
$1200 (up to 15 people)
then $50 extra person (up to 20)
16 – $1250 / 17 – $1300 / 18 – $1350 / 19 – $1400 / 20 – $1450
21- 25 people, then add $75 per person
5 hour trip
$1400 (up to 15 people)
then $60 extra per person (up to 20)
16 – $1460 / 17 – $1520 / 18 – $1580 / 19 – $1640 / 20 – $1700
21-25 people, then add a further $85 per person
Cruise Packages
Basic Cruise
$250 PER HOUR (2 HOURS)
BYO drinks/nibbles

Coffee, tea, cordial and a lamington cake provided

Up to 26 Passengers
Catered Cruise
$250 PER HOUR (2-3 HOURS)
BYO drinks/nibbles

Coffee, tea, cordial and a lamington cake provided

$ TBA for catering needs as agreed

Up to 26 passengers
For More Information on our Cruise Packages & Options, visit our site: http://bayfishntrips.com.au/trips-tours/cruises
Package Deals
We have partnered with local businesses to create some fantastic packages.
Allocate some time for fishing (with Allocate Holiday Rentals)
Wooden boat and wine bar soiree (with Brass Razu)
Bountiful BBQs (with Red Gum BBQ)
Harmonious Plover 'n Pamper or Plunge packages (with Harmony B&B)
Mornington Dine & Cruise (with The Rocks Restaurant)
By Land & Sea (with Morning Star Estate)
Lakeside Stay, Fishing Day (with Lakeside Villas)
Play & Bathe (with Peninsula Hot Springs)
Save, Stay & Play (with Getaway Mornington Peninsula)
Transportation by land & sea (with Elite Day Tours)
Visit our website to see the seven packages currently on offer:
http://bayfishntrips.com.au/trips-tours/packages
MAKE A BOOKING
Phone 0418 349 364 between 9 am & 9 pm
Visited 5002 times, 1 Visit today